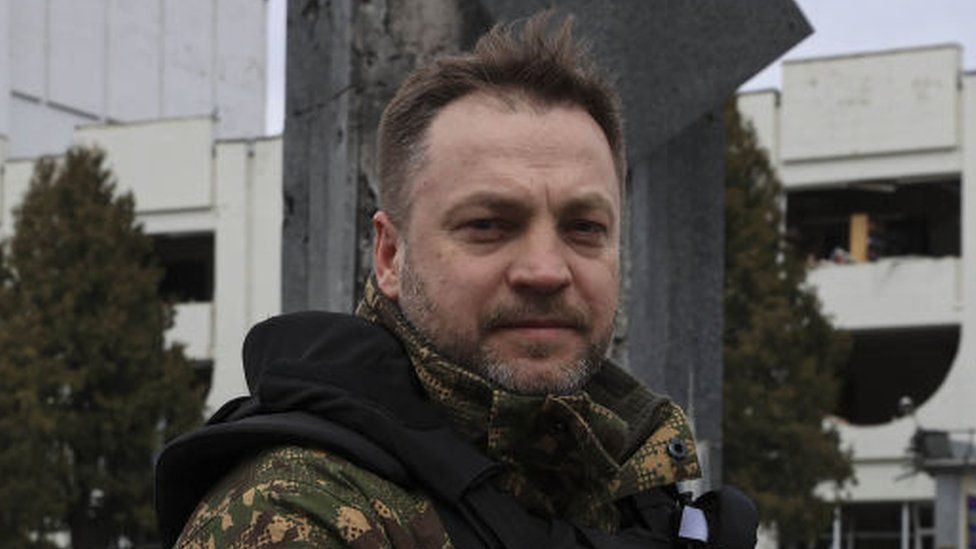 He became the country's interior minister in July 2021, just six months before Russia invaded the country.
Born in the western city of Khmelnytsky in 1980, he initially pursued a legal career in private practice, but entered politics in 2014.
Recruited as a legal expert, he was part of the team behind Volodymyr Zelensky's successful longshot bid for the presidency in 2019.
As a member of the president's Servant of the People party, he was elected to the parliament that same year and swiftly assumed a prominent role as head of the parliamentary committee on law enforcement affairs.
But his move to front-bench politics came in the wake of the sudden and unexpected resignation of the previous interior minister, Arsen Avakov, a political heavyweight who had held the post under four different administrations.
There had been rumours that Mr Zelensky was preparing to fire Mr Avakov, who was seen as standing in the way of the president's attempts to tackle corruption.
At the time, the appointment of Mr Monastyrsky was interpreted as consolidating the president's grip on power.
As interior minister, Mr Monastyrsky was responsible for the police and security inside Ukraine.
When Russia launched its invasion of Ukraine in February 2022, he rose to the challenge of rallying international support for Kyiv's fightback.
He gave interviews to the world's press warning of a "humanitarian catastrophe" and highlighting the challenges faced by Ukraine's emergency services, which also come under the interior ministry's control.
He also played a key role in updating the Ukrainian public on casualties caused by Russian missile strikes.
His friend and MP Mariia Mezentseva said it was "a tragedy for everyone" as Mr Monastyrsky's ministry was playing a key role in Ukraine's response to the invasion.
"He responded 24/7 to his colleagues, friends and family. He was very close to President Zelensky from day one of his presidential campaign," she told the BBC.
"We will always remember him as a very bright, smiley, friendly, patriotic person and a civil servant of Ukraine," she added.
"I have no words. I'm trying to keep calm but this is very hard, this is very hard because this is a tragedy for everyone."
Also killed in the same helicopter crash was Mr Monastyrsky's deputy, Yevgeny Enin, a former intelligence officer and top lawyer who had been in his post since September 2021.
Ukraine's Foreign Minister Dmytro Kuleba hailed the men as "true Ukrainian patriots" and said their deaths were a "huge loss for us all".
SOURCE: BBC News