World Cup 2022-Quarter Final Fixtures and Schedule .World Cup 2022 has reached the quarter-final stage in Qatar; the final is on December 18; Quarter-final line-up: Croatia vs Brazil, Netherlands vs Argentina, Morocco vs Portugal, England vs France. Watch FIFA WC LIVE Streaming LIVE on kigalidailynews.com .

Confirmed Quarterfinal Fixtures:
December 9: Croatia vs Brazil at 8:30 PM
December 10: Netherlands vs Argentina at 12:30 AM
December 10: Morocco vs Portugal 8:30 AM
December 11: France vs England at 12:30 AM

World Cup 2022 Quarter Final Fixtures

Qualified 16 Teams- FIFA World Cup 2022

| | | |
| --- | --- | --- |
| Group | Teams Qualified – 1st Position | Teams Qualified – 2nd Position |
| A | Netherlands | Senegal |
| B | England | USA |
| C | Argentina | Poland |
| D | France | Australia |
| E | Japan | Spain |
| F | Morocco | Croatia |
| G | Brazil | South Korea |
| H | Portugal | Switzerland |

There are no major surprises in the list of final 16 teams who have qualified for the Round of 16. The list contains heavyweights like Brazil, Argentina, England, Portugal and others. It is also heartening to see teams like the USA, Poland, Morocco and others making it to the Last-16. The contests should keep fans on their toes, for the course of next five days.

World Cup 2022 Quarter Final Fixtures

The following list contains the Round of 16 schedule.

FIFA World Cup: Round of 16 Schedule

In the first match of the Round of 16, Netherlands defeated USA 3-1 to seal their spot in the Last 8
In the second game of the knockouts, Argentina defeated Australia 2-1.
France defeated Poland by 3-1 to reach FIFA WC Quarterfinals.
England claimed a standout 3-0 victory over Senegal
In an exciting contest, it remained stalemate after 120 minutes. Croatia beat Japan 3-1 on Penalties to move to the Quarters berth.
The third quarterfinals is set. Brazil secured their spot with a 4-1 win over South Korea.
Morocco KNOCKED OUT Spain in the Penalties to seal their spot in the Last 8.
Portugal ran riot against Switzerland to reach the Quarters. Goncalo Ramos scored a hattrick as Portugal hit the Swiss side for 6-1.

FIFA WC Quarterfinal RACE: Morocco KNOCKS OUT Spain, Portugal vs Switzerland to FIGHT for LAST spot of Quarters berth: Follow LIVE

There are some cracking contests lined-up. You favourite stars will be in action. So, make sure, you don't miss out on any of those dates. It's time to mark your calendar in advance.

From here on, it will be the survival of the fittest. The FIFA World Cup action only gets better from here on. There is no turning back, no second chances and no comebacks. Someone's dreams will come to an abrupt end, while for winners, the dream will stay alive.
There were troubling scenes outside the Education City Stadium before and during the Morocco v Spain match, with fans of the African nation unable to gain entry for the last-16 tie. Journalists reported that there was the risk of a crush when the stadium entrance was closed midway inside the first half and a flashpoint when an officer fell off a horse amid chaotic scenes near a chainlink fence. Fans said by organisers to be ticketless tried to get past a security cordon but were pushed back by police and security forces. It was reported that the situation calmed down when many fans outside chose to watch on their mobile phones.
Global media-watch
The exits of both Japan and South Korea in quick succession left Asia without a representative in the World Cup's last eight, but press reaction domestically has mostly viewed the defeats through the prism that reaching the last 16 was an achievement in itself.
In The Hankyoreh in South Korea, there was a lament for the pressure the schedule had put the team under compared to Brazil. "The World Cup was held while the European leagues were in progress, affecting the duration of the tournament," the newspaper said. "The Korean players, who had no choice but to put up with the tight schedule, suffered from physical exhaustion. Brazil changed most of the starting lineup in the third round of the group stage."
The Kyunghyang Shinmun had reporters on the streets of Seoul where fans gathered to watch at 4am in temperatures of -4C. "Citizens who filled the plaza three hours before the start of the game melted the cold with cup noodles and hot coffee," it noted, adding: "It snowed quite a bit from the end of the first half, but the enthusiasm for cheering was not dampened." There was no indication on whether there was a noodle shower when South Korea scored.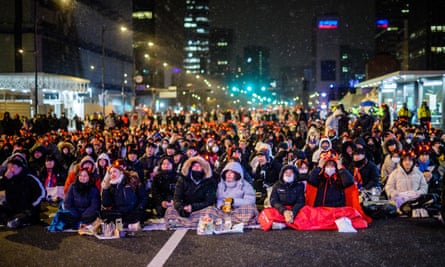 The Japan Times said that after the wins over Spain and Germany, "the international soccer community should be taking note of how this Japan side isn't another flash in the pan". Dan Orlowitz reckoned: "Over four games at this tournament, the Samurai Blue's performances showcased some of their greatest strengths – and exposed their most glaring weaknesses", and said that "it's now hoped that Monday's heartbreak will drive many of the 19 players at their first World Cup to bring the team to the promised land of the quarter-finals and beyond."
The internet reacts
Roy Keane continued his quest to make friends all over the world with his disparaging remarks about Brazil's dance celebrations on Monday. TNT Sports BR were not the only people to compare Keane's remarks that the dancing was "disrespectful" to his own actions during his career, but with over five million followers on Twitter their flashback to that Keane tackle on Alfe Inge Haaland will have had more reach than most.
Not everybody quite hit the mark. One outraged tweet suggested that Keane had been born into a society where people don't dance because they don't know how to express themselves. Quite a difficult take on Irish culture to explain to Michael Flatley, one imagines.
Still, at least one bunch of internet killjoys were impressed. The self-styled official celebration police of the World Cup have promoted Keane to an honorary role as chief constable, complete with a lovely British police hat. Keane will surely love that. MB
Today's live coverage
It's the first of two rest days in Qatar but we'll have rolling World Cup news between 9am and 5pm GMT and be sure to get your live football fix with the Guardian's minute-by-minute coverage of Arsenal v Juventus in the Women's Champions League at 8pm.